Firstly, you're going to need a couple of packages for this method. The required packages are as follows;
Obtaining Games
Once you've extracted all of the above, open XBLMarketplace For PC, it should look similar to the screenshot below.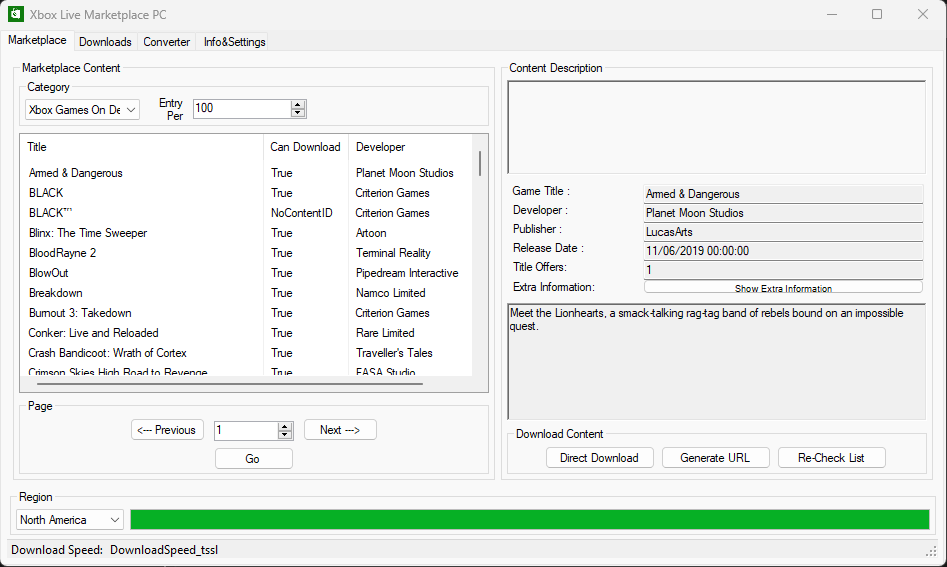 Select your region at the bottom right, select XBOX Games On Demand near the top right, I like to set it to 100 entries at a time.
Once you've found the game you'd like, so long as it's listed as True under Can Download, click the name of it in the left hand list then click the Generate URL button on the bottom right.
Copy the generated URL and paste it into a browser, if all goes well you should be prompted to download it.
Once it's downloaded, head to the Converter tab which should look like the screenshot below, all be it with nothing in the top pane at this stage.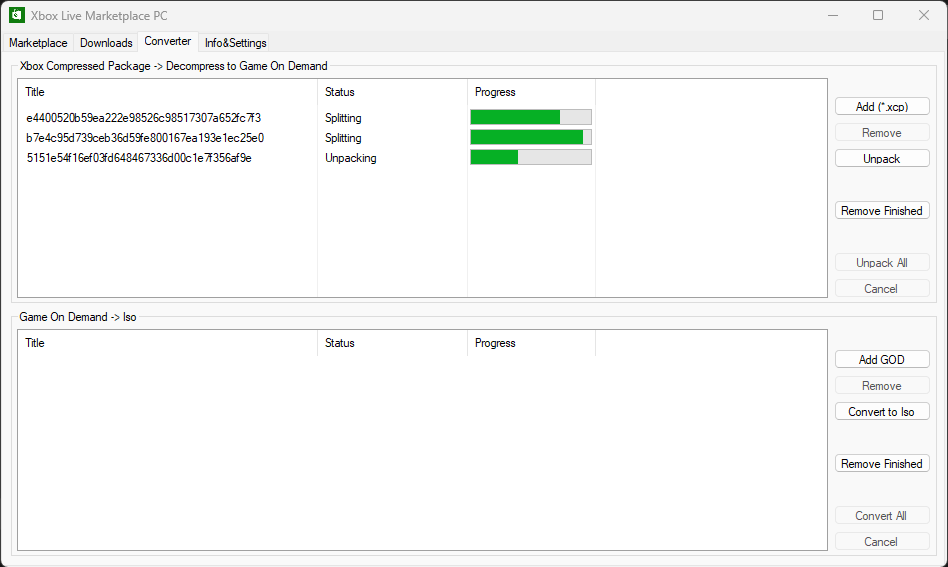 Click Add (*.xcp), select the file you just downloaded, click it in the top pane then click Unpack. This will take a while, bare with it. Once you've completed that you should find it in the Decompressed folder within the XBLMBrowser directory.
Preparing Games
Now that we have this, all that's required is a spot of renaming and to unlock the file for any console.
Open 360 Content Manager…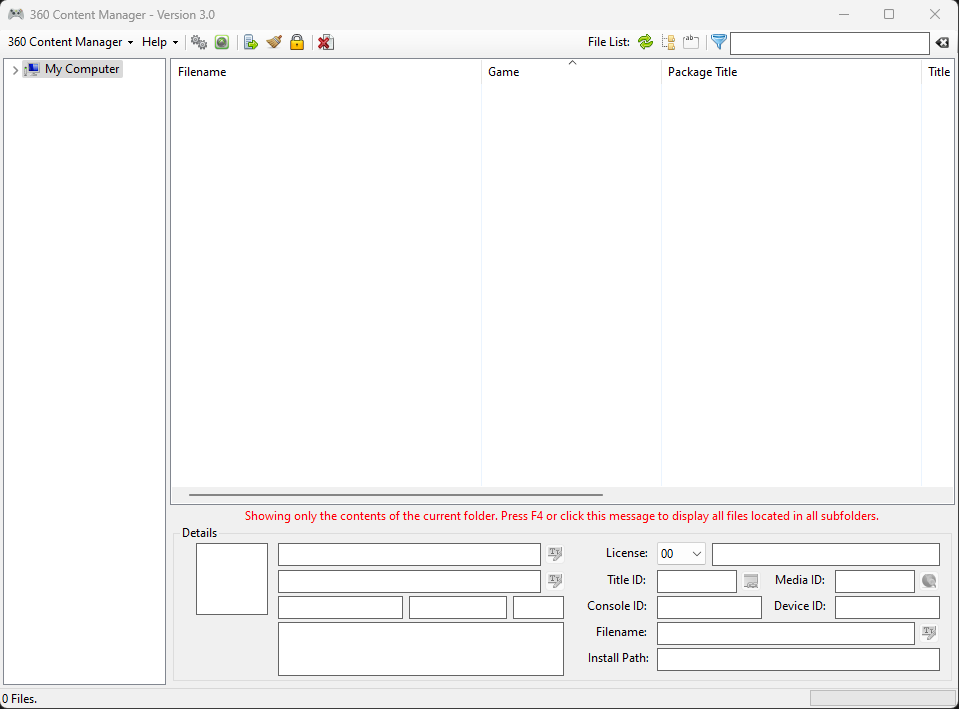 In the left pane, find the folder that you just decrypted to (it's set in the Info&Settings tab of Xbox Live Marketplace PC), you can now delete the .xcp file from that folder as you no longer need it. The game file should appear in the right hand pane. Tick the box next to it, right click the name and select Unlock Checked Files. Go through the motions with this and you are almost there.
Next rename the file and folder so that it is 12 characters long, the folder should have the same name with .data at the end, for example you could have a file named c49cad631931 and a folder named c49cad631931.data.
Now you'll need the title ID of the game, I've provided a table below to easily locate the correct one…
| Title ID | Game | Developer | Category | Year |
| --- | --- | --- | --- | --- |
| 4156084E | [PROTOTYPE] | Radical | Action | |
| 415608D8 | 007 Legends | Eurocom | Shooter | 2012 |
| 584108AA | 1942: Joint Strike | Backbone Entertainment | Action | 2008 |
| 454107E6 | 2006 FIFA World Cup | EA Canada | Sports | 2006 |
| 454108E4 | 2010 FIFA World Cup | EA Canada | Sports | 2010 |
| 5451083B | 50 Cent: BotS | Swordfish Studios | Action | 2009 |
| 54510840 | 5th Grader: Game Time | ImaginEngine | Puzzle | |
| 55530808 | AA: True Soldiers | High Voltage Software | Action | 2007 |
| 465307DA | AC for Answer | FromSoftware | Action | |
| 45410889 | AC/DC LIVE: Rock Band | Harmonix Music Systems | Music | 2008 |
| 4E4D07D1 | ACE COMBAT 6 | Namco | Action | 2007 |
| 4E4D081C | ACE COMBAT: AH | Namco | Action | 2011 |
| 4E4D084C | ACE COMBAT: AH Demo | Namco | Action | |
| 4B4E0819 | ADRENALIN MISFITS | Konami | Action | |
| 415608C7 | Adventure Camp | Cauldron | Family | 2012 |
| 484507D2 | AFL Live | Big Ant Studios | Sports | |
| 4E4D07D8 | AFRO SAMURAI | SURGE | Action | 2009 |
| 5848081B | Air Band | Relentless Software | Kinect | |
| 4B5907E0 | Air Conflicts: Secret Wars | Games Farm | Shooter | 2011 |
| 413307D3 | Air Conflicts: Secret Wars | Games Farm | Fighting | |
| 545A07D3 | Akai Katana | Cave | Shooter | 2012 |
| 4D530805 | Alan Wake | Remedy Games | Action | 2010 |
| 415607DC | Alaskan Adventures | Fun Labs | Action | 2006 |
| 475707D1 | Alaskan Storm | Liquid Dragon Studios | Strategy | 2008 |
| 45410916 | Alice: Madness Returns | Spicy Horse | Action | |
| 4D4B07D2 | Alien Breed Trilogy | Team 17 | Action | |
| 5345080C | Aliens Colonial Marines | Gearbox Software | Shooter | 2013 |
| 5345082A | Aliens vs Predator | Rebellion | Shooter | 2003 |
| 54540807 | All Pro Football 2K8 | Take 2 Interactive | Sports | 2007 |
| 494707D1 | Alone In The Dark | Eden Games | Action | 2008 |
| 5345080E | Alpha Protocol | Obsidian Entertainment | Action | 2010 |
| 4D4A07E4 | Alvin and The Chipmunks: Chipwrecked | Behaviour | Family | 2011 |
| 415607D4 | American Wasteland | Neversoft | Action | 2005 |
| 545407D4 | Amped 3 | Indie Built | Action | 2005 |
| 5345083F | ANARCHY REIGNS | Platin | Action | 2012 |
| 415608E4 | Angry Birds Trilogy | Rovio | Puzzle | 2012 |
| 4156088B | Apache: Air Assault | Gaijin Entertainment | Racing | 2010 |
| 58410B47 | Apples to Apples | ImaginEngine | Puzzle | 2011 |
| 415707DC | Arcana Heart 3 | Arc System Works | Fighting | 2011 |
| 4A5707D2 | ArcaniA - Gothic 4 | Spellbound | Role Playing | 2010 |
| 4E4D084F | Armored Core V | FromSoftware | Action | 2012 |
| 465307D6 | ARMORED CORE4 | FromSoftware | Action | 2007 |
| 454107F8 | Army of Two | Electronic Arts | Shooter | 2008 |
| 4541084C | Army of Two (EU) | Electronic Arts | Shooter | 2008 |
| 454108D8 | Army of TWO: TFD | Electronic Arts | Shooter | 2010 |
| 434D082B | Ashes Cricket 2009 | Transmission Games | Sports | 2009 |
| 555307D4 | Assassin's Creed | Ubisoft | Action | 2007 |
| 5553085D | Assassin's Creed Brotherhood | Ubisoft | Action | |
| 5553083B | Assassin's Creed II | Ubisoft | Action | 2009 |
| 55530879 | Assassin's Creed Revelations | Ubisoft | Action | 2011 |
| 555308AE | Assassin's Creed® III | Ubisoft | Action | 2012 |
| 584108C3 | Assault Heroes 2 | Wanako Games | Action | 2008 |
| 494707EE | Assault on Dark Athena | Starbreeze | Action | 2009 |
| 4E4D081D | ASSAULTHORIZON | Namco | Shooter | |
| 43430817 | ASURA'S WRATH | CyberConnect2 Co.Ltd. | Action | 2012 |
| 425607D1 | At Worlds End | Eurocom | Action | 2007 |
| 4D4A07D9 | AttackOfTheMovies3D | Panic | Action | 2010 |
| 5848081A | Avatar Kinect | Good Science Studio | Kinect | |
| 545107E1 | Avatar: TLA: TBE | THQ | Action | 2007 |
| 58410B5A | Awesomenauts | Ronimo Games | Platformer | 2012 |
| 464F07DA | BACKBREAKER | NaturalMotion Games | Strategy | 2010 |
| 58410B39 | Backbreaker Vengeance | NaturalMotion Games | Action | 2011 |
| 49470803 | Backyard Football '10 | FarSight Studios | Family | 2009 |
| 4947080B | Backyard Sports: Rookie Rush | Humongous Inc. | Sports | |
| 41560823 | Baja 1000 | Left Field Productions | Racing | 2008 |
| 545107EF | BAJA: Edge of Control | 2XL Games, Inc. | Racing | 2008 |
| 41560857 | Bakugan | Now Pro | Action | 2009 |
| 41560891 | Bakugan: DOTC | Now Pro | Action | 2012 |
| 4156085C | Band Hero | Neversoft | Music | 2009 |
| 58410B4A | Bang Bang Racing | Digital Reality | Racing | 2012 |
| 5343080B | Batman: AA GOTY | Rocksteady Studios | Action | 2010 |
| 534307F6 | Batman: Arkham Asylum | Rocksteady Studios | Action | 2009 |
| 57520802 | Batman: Arkham City | Rocksteady Studios | Action | 2011 |
| 415707D4 | Battle Fantasia | Arc System Works | Fighting | 2010 |
| 58480818 | Battle Stuff | Smoking Gun Interactive | Kinect | |
| 5A4507D1 | Battle vs Chess | Targem Games | Card | |
| 58410B42 | Battle: Los Angeles | Live Action Studios | Action | |
| 454107DB | Battlefield 2: MC | DICE | Action | 2010 |
| 45410950 | Battlefield 3 | DICE | Shooter | 2011 |
| 454107F9 | Battlefield: Bad Co. | EA Digital Illusions CE AB | Action | 2008 |
| 454108A8 | Battlefield: Bad Co. 2 | Digital Illusions | Action | 2010 |
| 415608D1 | Battleship | Double Helix | Shooter | 2012 |
| 534307E9 | Battlestations Pacific | Eidos | Action | 2009 |
| 534307D9 | Battlestations: Midway | Eidos | Action | 2010 |
| 53450813 | BAYONETTA | Platin | Action | 2010 |
| 415907D7 | BCFx-Doug Williams Ed. | Nerjyzed Entertainment Inc. | Sports | 2009 |
| 4E4D07DC | Beautiful Katamari | Namco | Action | 2007 |
| 415607F5 | Bee Movie Game | Beenox | Action | 2007 |
| 534507F4 | Beijing 2008 | Eurocom | Sports | 2008 |
| 445007FC | Ben 10 Galactic Racing | Monkey Bar Games | Family | 2011 |
| 445007F1 | BEN 10: VILGAX ATTACKS | Papaya Studio | Action | 2009 |
| 55530801 | Beowulf | Ubisoft | Action | 2007 |
| 41560800 | Big Game Hunter | Fun Labs | Sports | 2007 |
| 415608CE | Big League Sports | Robomodo | Sports | 2010 |
| 5345085C | BINARY DOMAIN | Sega | Shooter | 2012 |
| 434307DD | Bionic Commando | GRIN | Action | 2009 |
| 534307E2 | Bionicle Heroes | Traveller's Tales | Action | 2006 |
| 545407D8 | BioShock | 2K Boston, 2K Austraila | Action | 2007 |
| 5454082D | BioShock 2 | 2K Marin | Shooter | 2010 |
| 54540861 | BioShock 2 | 2K Marin | Action | 2010 |
| 5454085D | BioShock Infinite | Irrational Games | Shooter | 2013 |
| 4B4E0839 | Birds of Steel | Gaijin Entertainment | Racing | 2011 |
| 5553088D | Black Eyed Peas Experience | Ubisoft | Music | |
| 4D5707D7 | Blacksite | Midway | Action | 2007 |
| 464F07F2 | Blackwater Kinect | Zombie Studios | Shooter | 2011 |
| 4B4E0838 | Blades of Time | Gaijin Entertainment | Action | 2012 |
| 4B4F07D8 | BLADESTORM | KOEI | Action | 2007 |
| 415807D5 | BlazBlue | Arc System Works | Fighting | |
| 415707DD | BLAZBLUE CONTINUUM SHIFT EXTEND | Arc System Works | Fighting | 2012 |
| 415707DA | BLAZBLUE CS | Arc System Works | Fighting | |
| 555307DB | Blazing Angels | Ubisoft | Action | 2006 |
| 555307FE | Blazing Angels 2 | Ubisoft | Action | 2007 |
| 4D5707D4 | Blitz: The League | Point of View | Sports | 2007 |
| 4D5707E8 | Blitz: The League II | Midway | Sports | 2008 |
| 58580833 | Block Party | Xbox LIVE | Other | |
| 464507D1 | Blood Bowl | Cyanide | Strategy | 2010 |
| 4156088D | Blood Drive | Sidhe | Racing | 2010 |
| 4D5307DF | Blue Dragon | Mistwalker / Artoon | Role Playing | 2007 |
| 41560845 | Blur | Bizarre Creations | Racing | 2010 |
| 58480813 | Bobble Head | Good Science Studio | Kinect | |
| 4E4D0827 | Body and Brain Connection | Namco | Family | 2010 |
| 434D0839 | Bodycount | Codemasters | Shooter | |
| 485507D1 | BOMBERMAN Act:Zero | HUDSON | Action | 2006 |
| 545407E7 | Borderlands | Gearbox Software | Shooter | 2009 |
| 5454087C | Borderlands 2 | Gearbox Software | Role Playing | 2012 |
| 424707D1 | BradyGames Strategy | BradyGames | Other | 2009 |
| 584108AE | Brain Challenge | Gameloft | Educational | 2009 |
| 455607D1 | Brave- Warrior's Tale | Collision Studios | Action | 2009 |
| 42560817 | Brave: The Video Game | Behaviour | Action | 2012 |
| 425307D9 | Brink | Splash Damage | Shooter | 2011 |
| 555307EA | Brothers in Arms: HH | Gearbox Software | Action | 2008 |
| 435607DA | Brunswick Pro Bowling | FarSight Studios | Sports | 2010 |
| 454108C5 | Brütal Legend | Double Fine | Action | 2009 |
| 58480812 | Build A Buddy | Good Science Studio | Kinect | |
| 454108EF | Bulletstorm | Epic Games / People Can Fly | Shooter | 2011 |
| 494707DB | BulletWitch | Atari | Action | 2007 |
| 5454081A | Bully Scholarship Ed. | MAD | Action | 2008 |
| 58410B5D | Burnout Crash! | Criterion Games | Action | |
| 45410806 | Burnout Paradise | Criterion Games | Racing | 2008 |
| 454107DC | Burnout Revenge | Criterion Games | Action | 2010 |
| 45410860 | C&C Red Alert 3 | Electronic Arts | Strategy | 2008 |
| 4541083A | C&C3: Kane's Wrath | Electronic Arts | Strategy | 2008 |
| 4156085F | Cabela's BGH 2010 | Cauldron | Action | 2009 |
| 415608BD | Cabela's Big Game Hunter 2012 | Cauldron | Shooter | 2011 |
| 415608DB | Cabela's Dangerous Hunts 2013 | Cauldron | Action | 2012 |
| 415608C2 | Cabela's Hunting Party | GamesFarm | Action | |
| 4156088F | Cabela's NAA | Fun Labs | Action | 2010 |
| 415607E5 | Cabela's Safari | Fun Labs | Action | 2010 |
| 415608BE | Cabela's Survival: SoK | Fun Labs | Action | 2011 |
| 41560804 | Cabela's Trophy Bucks | FunLabs | Action | |
| 41560890 | Cabela's® DH 2011 | Cauldron | Shooter | |
| 415607D1 | Call of Duty® 2 | Infinity | Action | 2005 |
| 415607E1 | Call of Duty® 3 | Treyarch | Shooter | 2006 |
| 41560898 | Call of Duty® ELITE | Beachhead | Shooter | |
| 41560855 | Call of Duty®: Black Ops | Treyarch | Shooter | 2010 |
| 4156081C | Call of Duty®: WaW | Treyarch | Action | 2008 |
| 555307FA | Call of Juarez | Techland | Action | 2011 |
| 55530874 | Call Of Juarez : The Cartel | Techland | Shooter | 2011 |
| 5553081C | Call of Juarez 2 | Techland | Shooter | 2009 |
| 5553083C | Cameron's Avatar | Ubisoft | Action | 2009 |
| 4343082B | Capcom DC | Backbone Entertainment | Action | 2012 |
| 53450858 | Captain America: Super Soldier | Next Level Games | Action | |
| 54540890 | Carnival Games®: MSMD | Cat Daddy | Family | 2011 |
| 545107EA | Cars | Rainbow | Family | 2006 |
| 425607FE | Cars 2: The Video Game | Avalanche | Action | 2011 |
| 54510801 | Cars: Mater-National | Rainbow | Family | 2008 |
| 54510848 | Cars: Race-O-Rama | Incinerator Studios | Family | 2009 |
| 584108B7 | Castle Crashers | The Behemoth | Action | 2010 |
| 4B4E0809 | Castlevania LoS | Mercury Steam | Action | |
| 4B4E084D | Castlevania: LoS 2 | Mercury Steam | Action | |
| 415407D7 | Catherine | Atlus | Action | 2011 |
| 4B5607D5 | Champion Jockey | Tose | Racing | |
| 4156085A | Chaotic | Fun Labs | Action | 2009 |
| 5857099E | Chevrolet Sonic Kinect | Chevrolet Sonic | Other | |
| 5553084C | Child of Eden | Q ENTERTAINMENT | Music | 2011 |
| 534507D4 | Chromehounds | FROM SOFTWARE | Action | 2006 |
| 415607E4 | Civil War | Cauldron | Shooter | 2007 |
| 545407E5 | Civilization Revolution | Firaxis Games | Strategy | 2008 |
| 4E4D081B | CLASH OF THE TITANS | Game Republic | Action | 2010 |
| 434D07E9 | Clive Barker's Jericho | Mercury Steam | Action | 2007 |
| 55530836 | Cloudy with a... | Ubisoft | Action | |
| 4F4707D7 | CN: PTEXL | Papaya Studio | Fighting | |
| 545407D2 | College Hoops 2K6 | Visual Concepts | Sports | 2006 |
| 545407F1 | College Hoops 2K7 | Visual Concepts | Sports | 2006 |
| 54540818 | College Hoops 2K8 | Visual Concepts | Sports | 2007 |
| 435907D2 | Combat Wings: GBWWII | City Interactive | Racing | 2012 |
| 4541080E | Command and Conquer 3 | Electronic Arts | Strategy | 2007 |
| 545107DA | Conan | Nihilistic Software | Action | 2007 |
| 534507D2 | Condemned | Monolith Productions, Inc. | Action | 2005 |
| 534307D3 | Conflict: Denied Ops | Pivotal Games | Action | 2008 |
| 563307D1 | Country Dance All Stars | High Voltage Software | Music | 2012 |
| 4D5307DC | Crackdown | Realtime Worlds | Action | 2007 |
| 4D5308BC | Crackdown 2 | Ruffian Games Ltd. | Other | 2010 |
| 565507FA | Crash Mind Over Mutant | Radical | Platformer | 2008 |
| 565507E4 | Crash Of The Titans | Radical | Platformer | 2007 |
| 524C07D1 | Crash Time | Synetic | Racing | |
| 524C07D9 | Crash Time 3 | Synetic | Action | |
| 445407D9 | Crash Time 4 - The Syndicate | Synetic | Racing | |
| 524C07D6 | Crash Time II | Synetic | Action | |
| 45410929 | Create | Bright Light | Other | 2010 |
| 4B4E082C | CROSSBOARD 7 | Konami | Action | |
| 45410968 | Crysis | Crytek | Shooter | |
| 454108E3 | Crysis 2 | Crytek | Shooter | 2011 |
| 4541098E | Crysis® 3 | Crytek | Shooter | |
| 5553083F | CSI: Deadly Intent | Telltale Games | Action | 2009 |
| 55530849 | CSI: Fatal Conspiracy | Telltale Games | Other | |
| 55530809 | CSI-Hard Evidence | Telltale Games | Action | 2007 |
| 41560825 | CW: Secret Missions | Cauldron | Action | 2008 |
| 545107FE | DAH! Path of the Furon | Sandblast Games | Action | 2008 |
| 4D5907D3 | Damage Inc. - Pacific Squadron WWII | Trickstar Games | Action | 2012 |
| 434D0806 | Damnation | Blue Omega Entertainment... | Action | 2009 |
| 545607D3 | Dance Central | Harmonix Music Systems | Music | 2010 |
| 5451088C | Dance Paradise | Smack Down Production | Music | |
| 4B4E0807 | DanceDanceRevolution | Konami | Music | |
| 4B4E081E | DanceMasters | Konami | Music | |
| 41560826 | Dangerous Hunts 2009 | Fun Labs | Action | 2008 |
| 454108CF | Dante's Inferno | Electronic Arts | Action | 2010 |
| 445007D4 | Dark Sector | Digital Extremes | Action | 2008 |
| 4E4D083A | Dark Souls | FromSoftware | Action | 2011 |
| 434307E0 | Dark Void | Airtight Games | Action | 2010 |
| 564707D4 | Darkest Of Days | 8monkey / Third Wave Games | Action | 2009 |
| 545107E6 | Darksiders | Vigil Games | Action | 2010 |
| 54510896 | Darksiders II | Vigil Games | Action | 2012 |
| 4B5907DA | DarkStar One | Gaming Minds Studios | Action | |
| 4E4D0803 | DB: Raging Blast | Spike | Fighting | 2009 |
| 4E4D0826 | DB: Raging Blast 2 | Spike | Fighting | |
| 4E4D0856 | DBZ Budokai HD Collection | Pyramid, Inc. | Fighting | 2012 |
| 4E4D084E | DBZ for Kinect | Spike | Fighting | 2012 |
| 424107DC | DBZ: BURST LIMIT | Dimps Corporation | Action | |
| 4B4E07EF | DDR Universe 3 | HUDSON | Music | 2008 |
| 4B4E07DC | DDR/DS Universe | HUDSON | Music | 2007 |
| 4B4E07E7 | DDR/DS Universe 2 | HUDSON | Music | 2007 |
| 54510865 | de Blob 2 | Bluetongue Entertainment | Action | |
| 58410B48 | Dead Block | Candygun Games UG | Action | 2011 |
| 4B4D07DF | Dead Island | Techland | Action | 2011 |
| 544307D1 | DEAD OR ALIVE 4 | Team Ninja | Fighting | 2005 |
| 4B5607DA | Dead or Alive 5 | Tecmo | Fighting | 2012 |
| 544307D2 | DEAD OR ALIVE Xtreme 2 | Team Ninja | Sports | 2006 |
| 434307D2 | DEAD RISING | Capcom | Action | 2006 |
| 434307EC | Dead Rising 2 | Blue Castle Games | Action | 2010 |
| 4343081F | DEAD RISING 2 OFF THE RECORD | Capcom | Action | 2011 |
| 45410857 | Dead Space | Electronic Arts | Action | 2008 |
| 4541099D | Dead Space 3 | Visceral | Action | |
| 454108DF | Dead Space 2 | Visceral | Action | 2011 |
| 58410B5C | Deadliest Warrior: Legends | Pipeworks | Fighting | 2011 |
| 494F07D4 | DEADLY PREMONITION | Access | Action | 2010 |
| 4D5607D1 | Deadly Premonition | Access | Action | |
| 545A07D1 | Deathsmiles | Cave | Shooter | |
| 415807D8 | DEATHSMILES NA | Cave | Shooter | 2010 |
| 435A07D9 | DeathSmiles2 X | Cave | Shooter | |
| 485507DF | DECA SPORTS FREEDOM | HUDSON | Sports | |
| 5451086B | Deepak Chopras Leela | Curious Pictures | Other | 2011 |
| 4B4E0820 | DEF JAM RAPSTAR | Terminal Reality | Music | |
| 454107EE | DEF JAM: ICON | EA Chicago | Fighting | 2007 |
| 535107FA | DEUS EX: HUMAN REVOLUTION | Eidos | Action | 2010 |
| 434307DF | Devil May Cry 4 | Capcom | Action | 2008 |
| 58410B3C | Diabolical Pitch | Grasshopper Manufacture | Action | 2012 |
| 434D07DB | DiRT | Codemasters | Racing | 2007 |
| 434D0819 | DiRT 2 | Codemasters | Racing | 2009 |
| 434D083D | DiRT 3 | Codemasters | Racing | 2011 |
| 434D0845 | DiRT Showdown | Codemasters | Racing | 2012 |
| 425307E3 | Dishonored | Arkane Studios | Action | 2012 |
| 425607DE | Disney Bolt | Avalanche | Action | 2008 |
| 5858085F | Disney Classics | Disney Interactive Studios | Other | |
| 42560816 | Disney Epic Mickey 2: The Power of Two | Junction Point Studios | Action | 2012 |
| 42560807 | Disney Phineas & Ferb | Lakshya Digital, Pvt. Ltd. | Family | |
| 425607E0 | Disney Sing It | Zoe Mode | Family | 2008 |
| 425607E6 | Disney Sing It HSM3 | Zoë Mode | Family | 2010 |
| 42560803 | Disney Universe | Eurocom | Action | 2011 |
| 54510839 | Disney·Pixar UP | Heavy Iron | Action | 2009 |
| 434407D6 | Divinity II | Larian Studio | Action | |
| 445407D3 | Divinity II | Larian Studio | Action | |
| 464507D6 | Divinity II - DKS | Larian Studio | Action | 2010 |
| 415407D8 | Divinity II: TDKS | Larian Studio | Role Playing | |
| 4156087F | DJ Hero® 2 | Freestyle | Music | 2010 |
| 4343081E | DMC HD Collection | Foundation 9 | Action | 2012 |
| 55530804 | DMMM:Elements | Ubisoft | Action | 2008 |
| 425307F1 | DOOM 3 BFG Edition | id Software | Shooter | |
| 4541090B | Dragon Age 2 | BioWare | Action | 2011 |
| 454108C0 | Dragon Age: Origins | BioWare | Role Playing | 2009 |
| 4E4D0846 | Dragon Ball Z UT | Spike | Fighting | 2011 |
| 43430814 | Dragon's Dogma | Capcom | Action | 2012 |
| 5345085A | Dreamcast Collection | Sega | Action | |
| 415907D8 | Dreamkiller | Mindware | Action | 2009 |
| 415608B4 | DreamWorks Kartz | High Impact Games | Family | 2011 |
| 5553087E | Driver San Francisco | Ubisoft | Action | 2011 |
| 4E4D07F5 | DTR: Retribution | Volatile Games | Fighting | 2010 |
| 5454084E | Duke Nukem Forever | Gearbox Software | Shooter | 2011 |
| 58580879 | Dumbo | Disney Interactive Studios | Other | |
| 535107F5 | Dungeon Siege 3 | Obsidian Entertainment | Action | |
| 4E4D0800 | DW: GUNDAM 2 | KOEI | Action | 2009 |
| 4E4D0834 | DW: Gundam 3 | Tecmo | Action | |
| 4B4F07FA | DW: Strikeforce | KOEI | Action | |
| 4E4D07E5 | DW:GUNDAM | KOEI | Action | 2007 |
| 4B4F07D3 | DW5 Empires | KOEI | Action | 2006 |
| 4B4F07E0 | DW6 | Tecmo | Action | 2008 |
| 4B4F07E7 | DW6 Empires | Tecmo | Action | 2009 |
| 4B4F07E1 | DYNASTY WARRIORS 6 | KOEI | Action | |
| 4B5607D2 | Dynasty Warriors 7 | Tecmo | Action | |
| 584C07D8 | E3 2007 | Xbox LIVE | Other | |
| 585407D3 | E3 2008 | Xbox Console Manufacturi... | Other | |
| 58580815 | E3 2009 | Xbox LIVE | Other | |
| 5858083F | E3 2010 | Xbox LIVE | Other | |
| 58580869 | E3 2011 | Microsoft | Other | |
| 4541096C | EA SPORTS | EA SPORTS | Sports | 2011 |
| 45410911 | EA SPORTS Active 2 | Electronic Arts | Sports | 2010 |
| 4541097B | EA SPORTS FIFA Street | Electronic Arts | Sports | 2012 |
| 45410891 | EA SPORTS Grand Slam® Tennis 2 | Electronic Arts | Sports | 2012 |
| 454108FC | EA SPORTS MMA | EA Tiburon | Fighting | 2010 |
| 445007F9 | Earth Defense Force: IA | Vicious Cycle Software | Action | 2011 |
| 445007D3 | EarthDefenseForce 2017 | SANDLOT | Action | 2007 |
| 445007EB | Eat Lead | Vicious Cycle Software | Shooter | 2009 |
| 494F07D1 | El Shaddai | Ignition Entertainment | Action | 2011 |
| 555307E6 | Enchanted Arms | FROM SOFTWARE | Role Playing | 2006 |
| 53450832 | End of Eternity | tri-Ace | Role Playing | |
| 4E4D07F1 | ENSLAVED | Ninja Theory Ltd. | Action | 2010 |
| 565507E0 | Eragon | Stormfront Studios | Action | 2006 |
| 415607DF | ET: QUAKE Wars | Nerve Software | Action | 2008 |
| 4E4D07E2 | Eternal Sonata | tri-Crescendo | Role Playing | 2007 |
| 4E4D07E4 | Eternal Sonata | tri-Crescendo | Role Playing | 2007 |
| 4F4707D4 | Everyone Sing | Gusto Games | Music | 2012 |
| 584108A7 | EXIT | Taito | Action | 2007 |
| 565507D9 | F.E.A.R. | Day 1 Studios | Action | 2006 |
| 575207D3 | F.E.A.R. 2 | Monolith Productions, Inc. | Shooter | 2009 |
| 57520800 | F.E.A.R. 3 | Day 1 Studios | Shooter | 2011 |
| 434D082D | F1 2010 | Codemasters | Racing | |
| 434D0842 | F1 2011 | Codemasters | Racing | 2011 |
| 434D0847 | F1 2012 | Codemasters | Racing | 2012 |
| 434D0849 | F1 Race Stars | Codemasters | Family | 2012 |
| 4D5307F1 | Fable II | Microsoft | Role Playing | 2008 |
| 4D5308D6 | Fable III | Lionhead Studios | Action | 2010 |
| 584807E1 | Facebook | Microsoft | Other | |
| 45410861 | FaceBreaker | EA Canada | Sports | 2008 |
| 425307D5 | Fallout 3 | Bethesda Game Studios | Role Playing | 2008 |
| 425307E0 | Fallout: New Vegas | Obsidian Entertainment | Action | 2010 |
| 5553087F | Family Feud® | Ludia | Family | |
| 45410966 | Family Game Night 4: The Game Show | Wahoo Studios, Inc. | Family | 2011 |
| 415608C5 | Family Guy | Heavy Iron | Action | 2012 |
| 5451085E | Fantastic Pets | Blitz Games | Family | 2011 |
| 5553088C | Far Cry 3 | Ubisoft | Shooter | 2012 |
| 55530810 | Far Cry® 2 | Ubisoft | Shooter | |
| 58580887 | Fast Five | Xbox LIVE | Other | |
| 4B4F07D7 | Fatal Inertia | KOEI | Racing | 2007 |
| 555307DC | FC Instincts Predator | Ubisoft | Action | 2006 |
| 464F07DB | Field & Stream T.O.C. | Beast Studios | Strategy | |
| 454107D7 | FIFA 06 RTFWC | EA Canada | Sports | 2005 |
| 454107EF | FIFA 07 | EA Canada | Sports | 2006 |
| 4541081F | FIFA 08 | EA Canada | Sports | 2007 |
| 4541085B | FIFA 09 | EA Canada | Sports | 2008 |
| 454108BC | FIFA 10 | EA Canada | Sports | 2009 |
| 45410967 | FIFA 12 | EA Canada | Sports | 2011 |
| 454108F3 | FIFA Soccer 11 | Electronic Arts | Sports | |
| 45410998 | FIFA Soccer 13 | EA Canada | Sports | |
| 45410999 | FIFA Soccer 13 Early Access | EA Canada | Sports | 2012 |
| 4541083B | FIFA Street 3 | Electronic Arts | Sports | 2008 |
| 45410915 | FIGHT NIGHT CHAMPION | Electronic Arts | Fighting | 2010 |
| 454107DE | Fight Night Round 3 | EA Chicago | Sports | 2010 |
| 45410894 | Fight Night Round 4 | EA Canada | Sports | 2009 |
| 5553084E | Fighters Uncaged | AMA Studios | Action | 2010 |
| 535107D5 | FINAL FANTASY XI | SQUARE ENIX | Role Playing | 2006 |
| 535107E4 | FINAL FANTASY XIII | SQUARE ENIX | Role Playing | 2010 |
| 53510806 | FINAL FANTASY XIII-2 | SQUARE ENIX | Role Playing | 2012 |
| 4B4F07FE | Fist of the North Star | Tecmo | Action | |
| 454D07D2 | FlatOut UC | Bugbear Entertainment | Racing | 2007 |
| 534507D1 | Football Manager 2006 | Sports Interactive | Strategy | 2006 |
| 4D5307EA | Forza Motorsport 2 | Microsoft | Racing | 2007 |
| 4D53084D | Forza Motorsport 3 | Turn 10 Studios | Racing | 2009 |
| 4C4107D4 | Fracture | Day 1 Studios | Action | 2008 |
| 535107E9 | Front Mission Evolved | Double Helix | Shooter | 2010 |
| 545107D8 | Frontlines:Fuel of War | Kaos Studios | Shooter | 2008 |
| 434D080D | FUEL | Asobo Studio | Racing | 2009 |
| 534507D5 | Full Auto | Pseudo Interactive | Action | 2006 |
| 4541096E | Fuse | Insomnia | Action | 2077 |
| 485507D4 | Fuzion Frenzy 2 | Microsoft | Action | 2007 |
| 4541089B | G.I. JOE | Double Helix | Action | |
| 454108D9 | G.I. JOE (PAL) | Double Helix | Action | |
| 584108BB | Galaga Legions | Namco | Action | 2008 |
| 415407DE | Game of Thrones | Cyanide | Role Playing | 2012 |
| 57520801 | Game Party In Motion | FarSight Studios | Family | 2010 |
| 4D530901 | Game Room | Krome Studios | Action | |
| 4D5307D5 | Gears of War | Epic Games, Inc. | Shooter | 2006 |
| 4D53082D | Gears of War 2 | Epic Games, Inc. | Shooter | 2008 |
| 4C5307DE | Get Fit With Mel B | Lightning Fish Games | Sports | |
| 425607E8 | G-Force | Eurocom | Action | 2009 |
| 41560883 | GH: Warriors of Rock | Neversoft | Music | 2010 |
| 55530833 | Ghost Recon: Future Soldier | Ubisoft | Shooter | 2012 |
| 494707F4 | Ghostbusters | Terminal Reality | Action | 2009 |
| 4D4A07D8 | GHP2 | Super X Studios LLC | Shooter | 2010 |
| 584108B8 | Go! Go! Break Steady | Little Boy Games | Music | 2010 |
| 534507E5 | Golden Axe:Beast Rider | Secret Level | Action | 2008 |
| 415608AF | GoldenEye Reloaded | Eurocom | Shooter | 2010 |
| 584108A1 | Golf: Tee It Up! | Housemarque | Sports | 2008 |
| 445407D4 | Gray Matter | Wizarbox | Action | |
| 464F07E7 | Grease Dance | Zoë Mode | Other | 2011 |
| 454108E7 | Green Day: Rock Band | Harmonix Music Systems | Music | 2010 |
| 575207E9 | Green Lantern | Double Helix | Action | |
| 434D07FF | GRID | Codemasters | Racing | 2008 |
| 434D0844 | GRID 2 | Codemasters | Racing | |
| 545407F2 | GTA IV | Rockstar North | Action | 2008 |
| 415707D1 | GUILTY GEAR 2 | Arc System Works | Action | 2008 |
| 41560840 | Guitar Hero 5 | Neversoft | Music | 2009 |
| 4156083E | Guitar Hero Hits | Beenox | Music | 2009 |
| 415607E7 | Guitar Hero II | Harmonix Music Systems | Music | 2007 |
| 415607F7 | Guitar Hero III | Neversoft | Music | 2007 |
| 41560830 | Guitar Hero Metallica | Neversoft | Music | 2009 |
| 4156083D | Guitar Hero Van Halen | Underground Development | Music | 2009 |
| 41560871 | Guitar Hero VIP Pass | Seven Studios | Music | |
| 4156081A | Guitar Hero World Tour | Neversoft | Music | 2008 |
| 41560819 | Guitar Hero: Aerosmith | Neversoft | Music | 2008 |
| 415607D3 | Gun | Neversoft | Action | 2005 |
| 475007D2 | Hail to the Chimp | Wideload Games | Other | 2008 |
| 58410B3D | HALF-MINUTE HERO -Super Mega Neo Climax- | Marvelous Entertainment ... | Action | 2011 |
| 4D5307E6 | Halo 3 | Bungie Studios | Shooter | 2010 |
| 4D530877 | Halo 3: ODST | Bungie Studios | Shooter | 2009 |
| 4D530808 | Halo Wars | Ensemble Studios | Action | 2009 |
| 4D5308CE | Halo Waypoint | 343 Industries | Other | 2010 |
| 4D53085B | Halo: Reach | Bungie Studios | Shooter | 2010 |
| 425607E9 | Hannah The Movie | N-Space | Action | 2009 |
| 5752080D | Happy Feet Two: The Videogame | KMMG Studios | Action | 2011 |
| 584108AC | Happy Tree Friends | Stainless Games | Puzzle | 2008 |
| 4D4A07E3 | Harley Pasternaks Hollywood Workout | Heavy Iron | Strategy | 2012 |
| 5858084A | Harry Potter and the Deathly Hallows | Warner Bros. | Action | |
| 454108F9 | Harry Potter and the Deathly Hallows - Part 1 | Bright Light | Action | 2010 |
| 45410955 | Harry Potter and the Deathly Hallows - Part 2 | EA Bright Light | Action | |
| 574207E7 | Harry Potter and the Deathly HallowsTM | Disruptive Publishers | Action | |
| 57520826 | Harry Potter for Kinect | Eurocom | Kinect | 2012 |
| 454107FA | Harry Potter HBP | Electronic Arts | Action | 2009 |
| 45410819 | Harry Potter OOTP | Electronic Arts | Action | 2007 |
| 4541090C | Hasbro Family Game Night 3 | Sumo Digital | Family | |
| 4B4E07D3 | Hellboy: TSoE | Krome Studios | Action | 2008 |
| 55530841 | Heroes Over Europe | Transmission Games | Other | 2009 |
| 53510804 | Hitman: Absolution | IO Interactive | Action | 2012 |
| 534307DB | Hitman: Blood Money | Eidos | Action | 2010 |
| 54510846 | Homefront | Kaos Studios | Action | |
| 4D5707D9 | Hour of Victory | Nfusion Interactive | Action | 2007 |
| 4D5707E4 | Hour of Victory (PC) | Nfusion Interactive | Action | |
| 41560877 | HowToTrainYourDragon | Etranges Libellules | Action | 2010 |
| 425607DF | HSM3 Senior Year DANCE | Page 44 Studios | Family | |
| 4D4A07DD | Hulk Hogan's Main Event | Panic | Fighting | |
| 425307D7 | Hunted Demons Forge | inXile Entertainment | Action | |
| 58410B3A | I Am Alive | Ubisoft | Action | 2012 |
| 434D07D8 | ICC Cricket 2007 | Codemasters | Sports | 2007 |
| 4156083F | Ice Age 3 | Eurocom | Action | 2009 |
| 415608D7 | Ice Age 4 | Behaviour | Family | 2012 |
| 464F07D1 | IL-2: Birds of Prey | Gaijin Entertainment | Strategy | |
| 504307D4 | Infernal | Metro | Action | 2009 |
| 535107DB | Infinite Undiscovery | tri-Ace | Role Playing | 2008 |
| 57520829 | Injustice: Gods Among Us | NetherRealm Studios | Fighting | |
| 4E4D0801 | Inversion | Saber Interactive | Action | 2012 |
| 534507F2 | Iron Man | Secret Level | Action | 2008 |
| 53450836 | Iron Man 2 | Sega | Action | |
| 4156081F | James Bond 007: Blood Stone | Bizarre Creations | Action | 2010 |
| 455607D6 | JASF | Trickstar Games | Racing | |
| 555308B3 | JD Disney Party | Land Ho! | Music | 2012 |
| 545108AE | Jeopardy! | Pipeworks | Family | 2012 |
| 4D4A07E5 | Jillian Michaels Fitness Adventure | Majesco | Sports | 2011 |
| 464F07F6 | Jillian Michael's Fitness Adventure | N-Space | Other | 2011 |
| 4B4E0841 | Jimmie Johnson's Anything With An Engine | Isopod Labs | Racing | 2011 |
| 484507D4 | Jonah Lomu Rugby Challenge | Sidhe | Sports | 2011 |
| 5848081F | Junk Fu | Wahoo Studios | Kinect | 2012 |
| 5858088A | Jurassic Park | Xbox LIVE | Other | |
| 41560870 | Jurassic: The Hunted | Cauldron | Action | |
| 534307D5 | Just Cause | Avalanche | Action | 2006 |
| 534307E7 | Just Cause 2 | Avalanche | Action | 2010 |
| 55530888 | Just Dance 3 | Ubisoft | Family | 2011 |
| 555308B2 | Just Dance Greatest Hits | Ubisoft | Family | 2012 |
| 55530877 | Just Dance Kids 2 | Ubisoft | Family | |
| 555308B5 | Just Dance® 4 | Ubisoft | Music | 2012 |
| 4D5307D2 | Kameo | Rare | Action | 2005 |
| 534307F8 | Kane & Lynch 2 | IO Interactive | Action | 2010 |
| 534307E0 | Kane and Lynch:DeadMen | IO Interactive | Action | 2007 |
| 4B4E0803 | Karaoke Revolution | Blitz Games | Family | 2009 |
| 4B4E083F | Karaoke Revolution Glee: Volume 3 | Hijinx Studios, LLC. | Music | 2011 |
| 474507D2 | Kengo Legend of the 9 | GENKI | Action | 2007 |
| 4D5308ED | Kinect Adventures! | Good Science Studio | Other | |